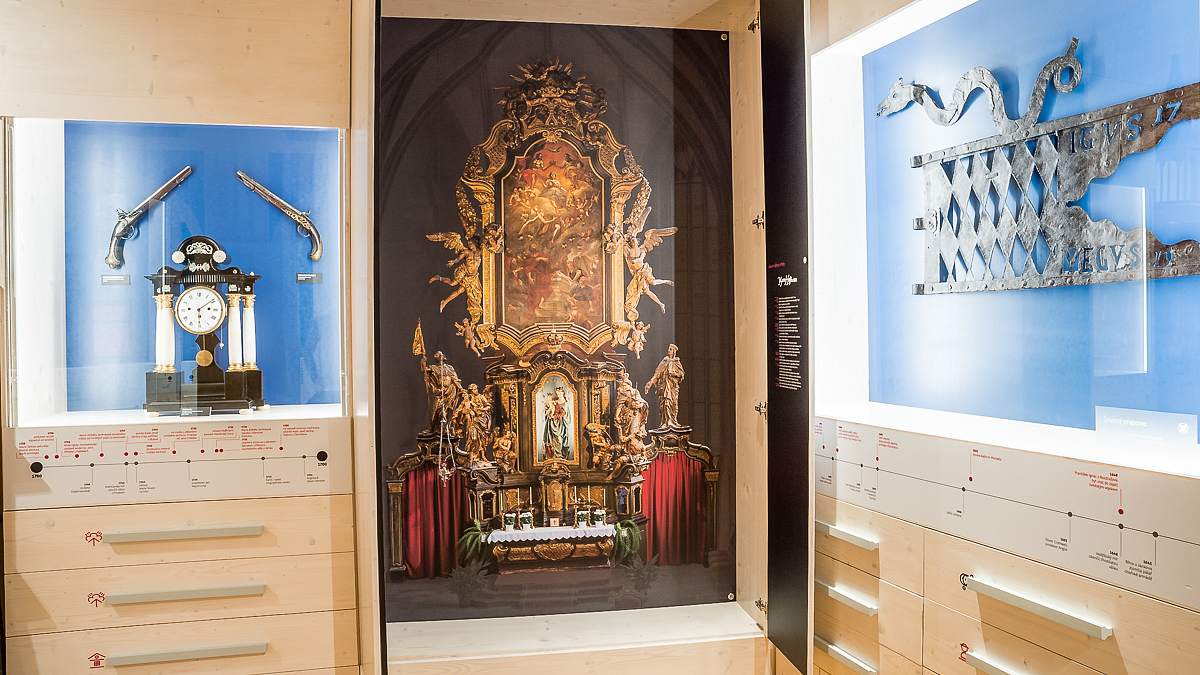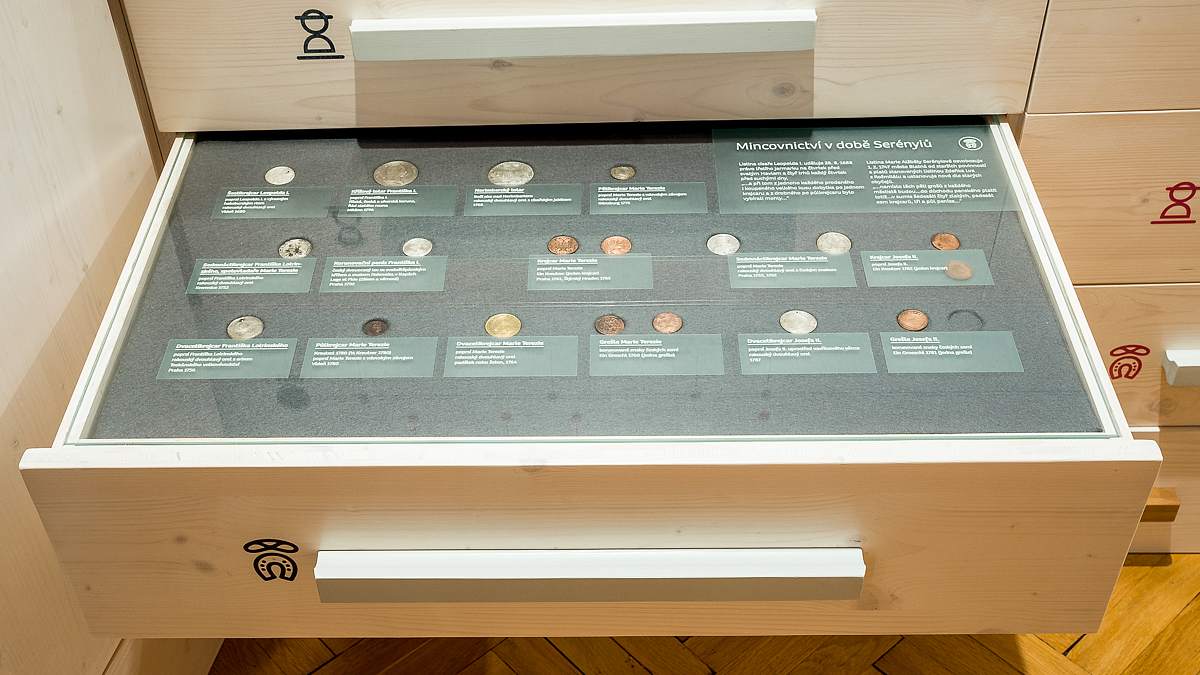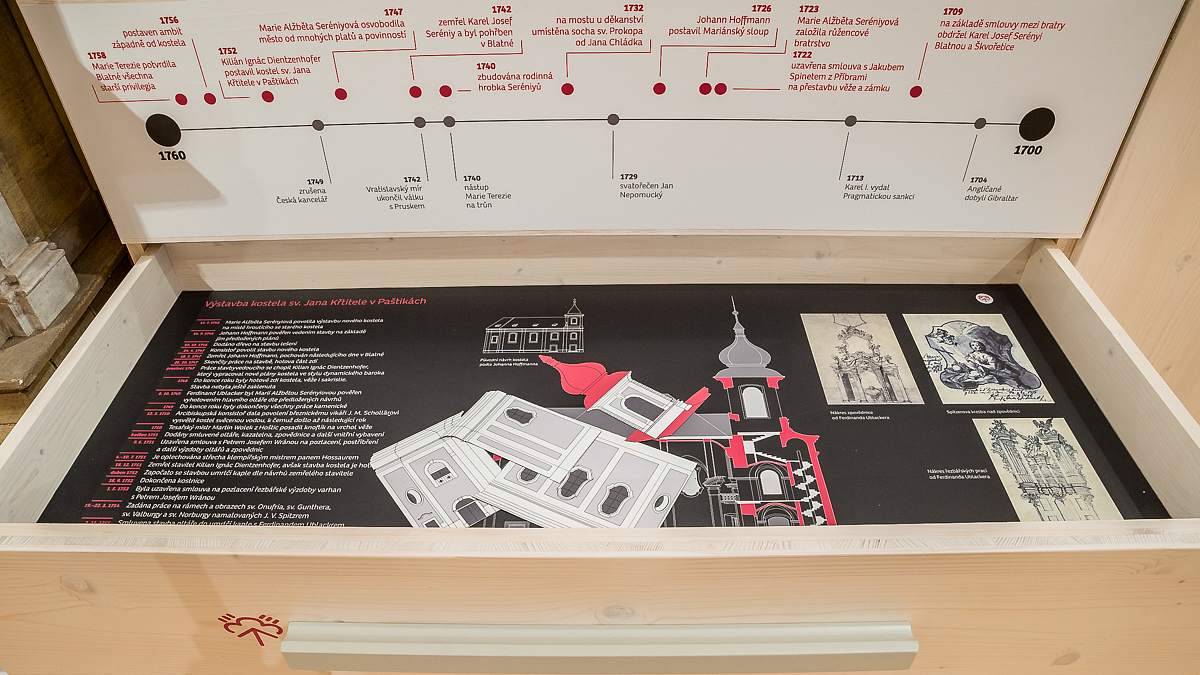 12
THE CENTURY OF SERENYI DE KISS
The 18th century in Blatná can be without exaggeration described as a century of the Hungarian family Serenyi de Kiss. While the town had become their property as early as in 1695, the real boom came after 1718, when the young Karel Josef Serenyi married Marie Alžběta of Valdštejn (Wallenstein). First, in 1722, Jakub Spineti of Příbram was invited to Blatná to build a new Baroque belfry. Subsequently, in 1726, Johann Hoffmann created the dominant feature of today's square – the Marian Column – to confirm the Catholic faith in the municipality. All freestanding statues of saints in Blatná were made to the order placed by the Serenyi family. However, only St. Prokop (1732), St. Wenceslas (1756) and St. Florian (1766) have been preserved. In 1744, Marie Alžběta commissioned the making of the main altar and two side altars in the Church of the Assumption.
During the creation of these, the Serenyi family did not forget about themselves and, therefore, as early as 1756, the tower was fitted with the coat of arms of their alliance – Serenyi-Valdštejn. A similar coat of arms can be found on the main altar and on the Marian Column. Their permanent trace is also evident on tombstones which are now installed in the wall of the chancel of the Blatná church. Moreover, the main altar featured the saints Josef and Elizabeth of Hungary, according to whom both spouses were baptized.
A significant construction project undertaken by the family between 1747 to 1752 was the Church of St. John the Baptist in Paštiky. The design was first commissioned to Johann Hoffmann, but he died at the beginning of the construction. This is why the family contacted the famous builder Kilian Ignaz Dientzenhofer, who would then build the church in the style of dynamic Baroque. They are also credited with the Baroque reconstruction of the deanery building in 1713, the north-eastern wing of the chateau in 1767 and the construction of a gamekeeper's lodge or garden house in the chateau park.
Since the town of Blatná was constantly laden with debt, in 1747, Marie Alžběta relieved their subjects from older payments and duties and assessed new ones. She also looked after young people and as the old school was in a poor condition, she bought the Kocábovský house (today, the house situated in J. P. Koubka Street No. 4) and turned it into a school. Karel Josef Sereniy died in 1742, while his wife Marie Alžběta lived until 1787. They are both buried in the Blatná church.